Transforming healthcare communications.
The accelerated shift to digital
The global pandemic has vastly accelerated how we communicate and how businesses operate.
Day to day interactions with mobile, social, and digital technologies have changed people's digital expectations. Healthcare providers and patients expect real-time availability of information which is, where possible, relevant and personalised to their individual needs.
As a result, digital content formats have become the key element in the overarching communication strategy for healthcare businesses. Our experts' industry-compliant digital credentials will help you to capitalise on this demand.
Digital Healthcare services
Helping you meet the needs of your customers and patients.
Stakeholder Workshop
Market Research
Performance Review
Sector Benchmarking
Channel Purpose & Goal
Digital Plan & Roadmap
Brand Planning & Roadmap Development
End-to-End Digital Activity Delivery
Platform Support & Management
App & Web Feature Development
Email Marketing
SEO
Third-Party Publisher Marketing
Marketing Performance & Insights
Branding
Logo Design
Website Design
App Design
E-Learning Module Design
Video & Animation
Digital Imagery
Style Guides
Healthcare Content Strategy
Copywriting & Content Editing
Educational Content Creation
Promomats & Vault Management
Reinventing digital healthcare - compliantly
Our perfect cocktail of healthcare compliance knowledge, creative digital marketing and technical expertise enables us to provide global healthcare businesses with a complete end-to-end solution to meet their digital communication needs.
How we do it:
We create a framework for multichannel planning that allows teams to operate within set parameters to optimise their performance and engagement. This ensures actions taken to gain a customer-centric approach are consistent, cohesive and performance-based, rather than each team replicating what has been done in the past.
Our tried and tested Discover > Deliver > Impact model provides strong foundations helping brands scale their digital efforts. We support teams' digital activities to ensure each activity showcases the brand, focusing on the goal of increasing engagement across digital assets and offering a customer-centric experience.
Global pharmaceutical businesses have a complex setup made up of multiple brand teams, a multitude of content requirements, and the desire to present on a range of digital formats including web, mobile, CLM, and email. We help remove obstacles, whilst working with existing ecosystems to manage compliance, delivering digital excellence.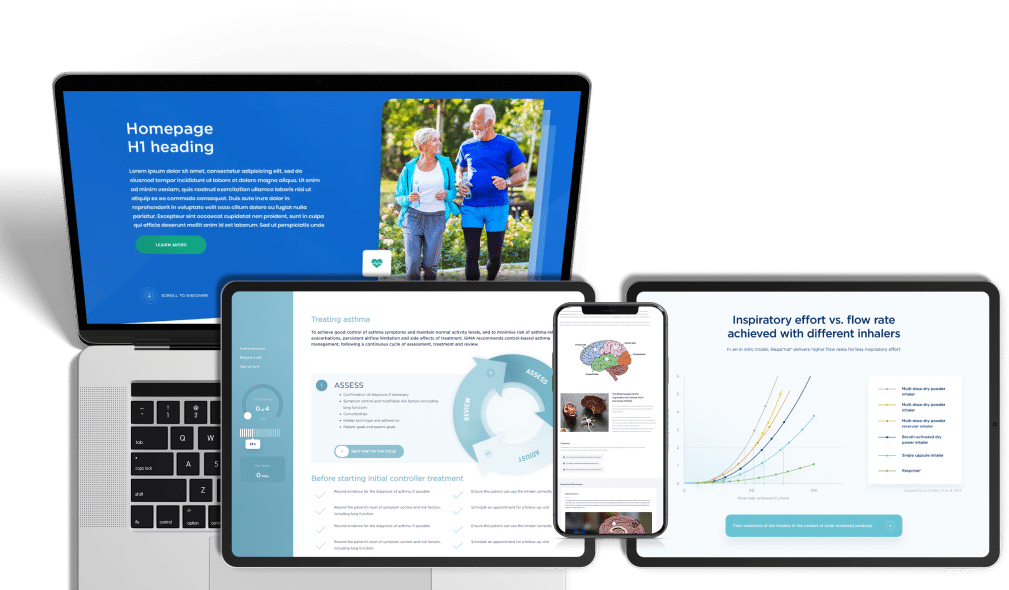 Delivering your digital needs
We deliver projects for healthcare businesses around the world. Our experience ranges from the design and build of beautifully crafted medical websites to the creation of customer journeys that bridge the information gap between medical teams and their users.
Our creative and marketing expertise is renowned within the industry and our team members have been recognised for numerous initiatives for their forward-thinking approach. If you are ready to join the digital revolution, get in touch.
Ready to start your project?