Leading workforce management SAAS business goes digital
Applying our discover – deliver – impact engagement model to drive growth.
The brief
Having established themselves as a leader in the mobile workforce management sector, the client experienced rapid growth via tradeshows, awards and word of mouth. However, they realised that unless they invested in digital marketing, they would not be able to maintain that momentum amid fierce competition.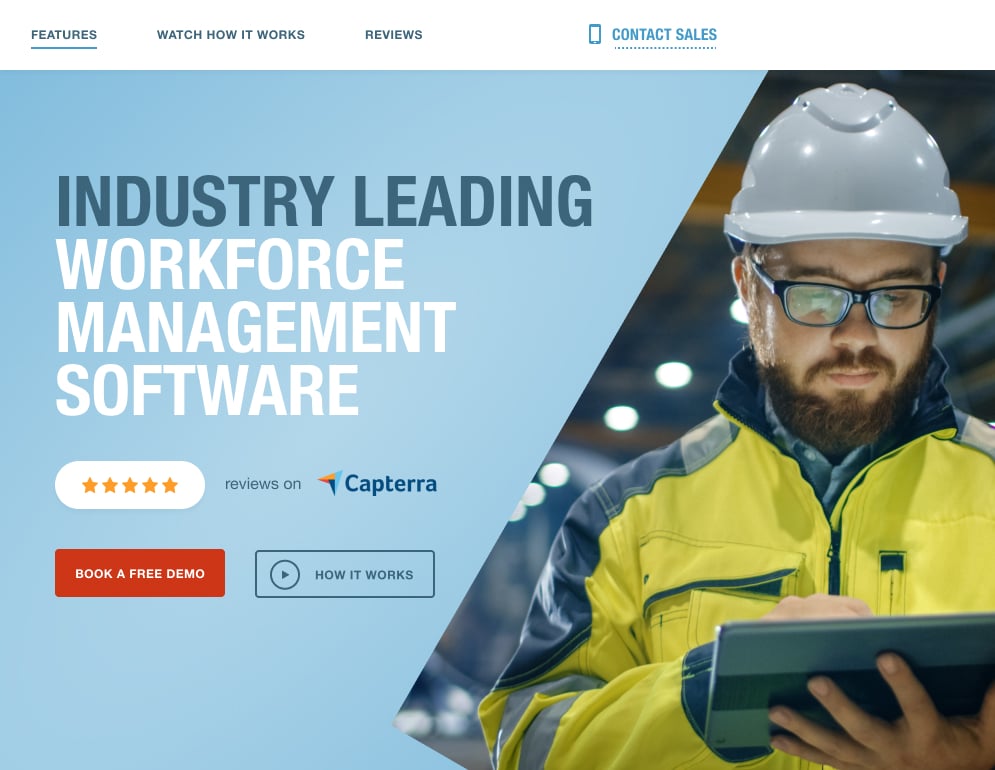 2020 brought a host of challenges to nearly all businesses and sectors. The traditional mechanisms of business and marketing had ground to a halt over-night. The news of redundancies, businesses going into administration and general hardship flooded the media. As a SAAS business, the client's pressure was doubled: they needed to improve how they ran their business while enabling their customers and prospective customers to continue to trade.
Many business owners had to make hard calls on how they were to survive such an economic downturn. The shift to reduce 'waste' by streamlining processes, consolidating responsibilities, and exploiting business opportunities became the top priority for several. This represented an opportunity for an organisation that prides itself in enabling businesses to run more productively, efficiently and profitably.
In order to capitalise on this opportunity, our client needed to move fast, rewriting how they marketed themselves to become more digital focused. With our analytics, creativity and fastidious approach, we were the right people for the job of making them digital.
The action
Every journey begins with discovery.
Discovering the opportunity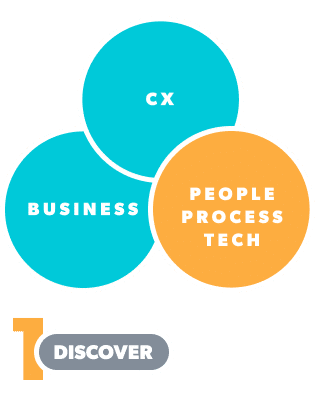 Everything and we do mean everything, start from here. How do we know where to go if we don't know where you are? This phase is all about getting to know the business and the competition better, understanding who your audience is and how they find your brand, and establishing what to do with all the data once we have it.
The goals are to:
Understand the opportunities - is there anything that can be done immediately to give you a boost?
Benchmark against competitors – what are they doing well, and not so well?
Gain audience insights – who are your customers? How do they interact with you? Which channels work, which ones don't?
Have actionable recommendations - not just big-ticket items
A range of techniques is used throughout the data collection process. When we talk about data, we don't just mean looking at a list of reports or trawling through rows of analytics; that is just the tip of the iceberg. We mean gathering vital information that you can only ever get from experiencing the business at first-hand by talking to people across the organisation and getting under its skin.
We have been doing this process for a long time across industries and can instantly spot challenges and opportunities. For this SAAS business, some drastic changes were needed in order to retain their title as leaders in their industry and strive for the aggressive growth targets set out by the executive team.
Our findings
Challenges
• Current climate - Coronavirus = economic uncertainties
• Drop in demand (reach and conversion) - based on current channels utilised
• Traditional departmental teams; marketing, operations, sales etc.
• Siloed activities across departments with limited interactions
• Limited digital expertise in-house; specifically, technical digital marketing
• External resources kept separate from the business and are 'taskmasters'
• Too much focus on marketing messages rather than the product
• No meaningful segmentation of contacts
Opportunities
• Strong brand and reputation can help build trust in this climate
• Energetic internal teams that are hungry to help and can aid marketing efforts
• Product benefits (remote working) in high demand
• Digital marketing channels have the potential to provide more reach and performance
• Good traffic volumes for conversion rate optimisation
• High number of contacts = segmentation opportunities (capture meaningful data)
• Robust technology stack for optimising and growth
• Tactical partnership and loyalty schemes can expand efforts
• Test and learn strategy will rapidly speed up learnings
At the end of the discovery phase, we were in a position to provide answers to the questions that make a real difference to businesses. Once these were identified, we worked with our client to prioritise what was most important and provide a roadmap with that all-important budget estimate to see how achievable their ambitions were in the near, medium, and long term.
We outlined a 3-step plan that would introduce new ways of working, finetune current activity, and improve use of technology to help grow the business:
1. Create cross functional teams
2. Adapt a performance marketing mentality
3. Make better use of technology stacks
This approach enabled us to form a short to mid-term digital activity calendar which the executive team gave the green light to, allowing us to move to the implementation phase.
Create cross functional teams
Cross-functional teams bring together employees with different areas of the business to work towards a common goal. With the right approach, a well-developed cross-functional team can deliver improved productivity, customer service and enhanced problem-solving.
With so many team members eager to get stuck in and help attract new business and service customers effectively, it seemed logical suggestion to look to roll out to cross-functional teams. This in essence would grow the marketing teams' output by bringing specialisms across sales, product, account management and more to help with various tasks.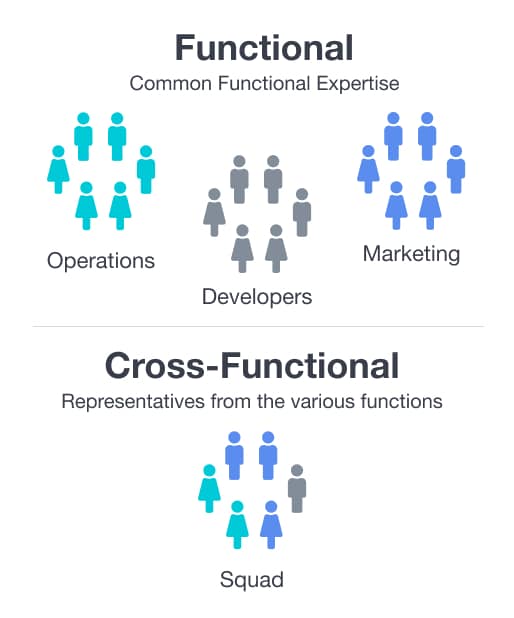 With a workforce ready to tackle any challenge thrown at them, we needed to take a step back before going full speed ahead. The world's most successful products are from brands who focus on the product first and ensure teams are customer experience-centric at all times. Strategies may define scope but only real customer behaviours prove the case.

Our client has won numerous awards for its unique mobile workforce and job management system that seamlessly connects back-office, mobile workers and customers. It replaces manual planning and paperwork and lets businesses deliver exceptional service from beginning to end. The platform caters for over 50 different sectors including waste management, fire and safety, construction, freight transport plus more- in essence, it can improve communications within any industry where there is a need to connect back office and field staff. Businesses benefit from quick and easy implementation, customisation to fit their needs, advice from their experts who are industry experts and an array of other high value benefits.
With such an impressive list of benefits, the trick would be how to bring all of these communications together and clearly highlight to customers and prospects how this platform could transform their business. In fact, this is the revolution their business has been waiting for; this workforce management offering would not only save money, it would make money.
Adapt a performance marketing mentality
With our extended team assembled and the product benefits firmly outlined, it was time to move to the next phase. One that would change the way our client made decisions and evaluated activity. It was time for a performance marketing mentality to be adopted across the business; everything should be evaluated back to generating positive ROI.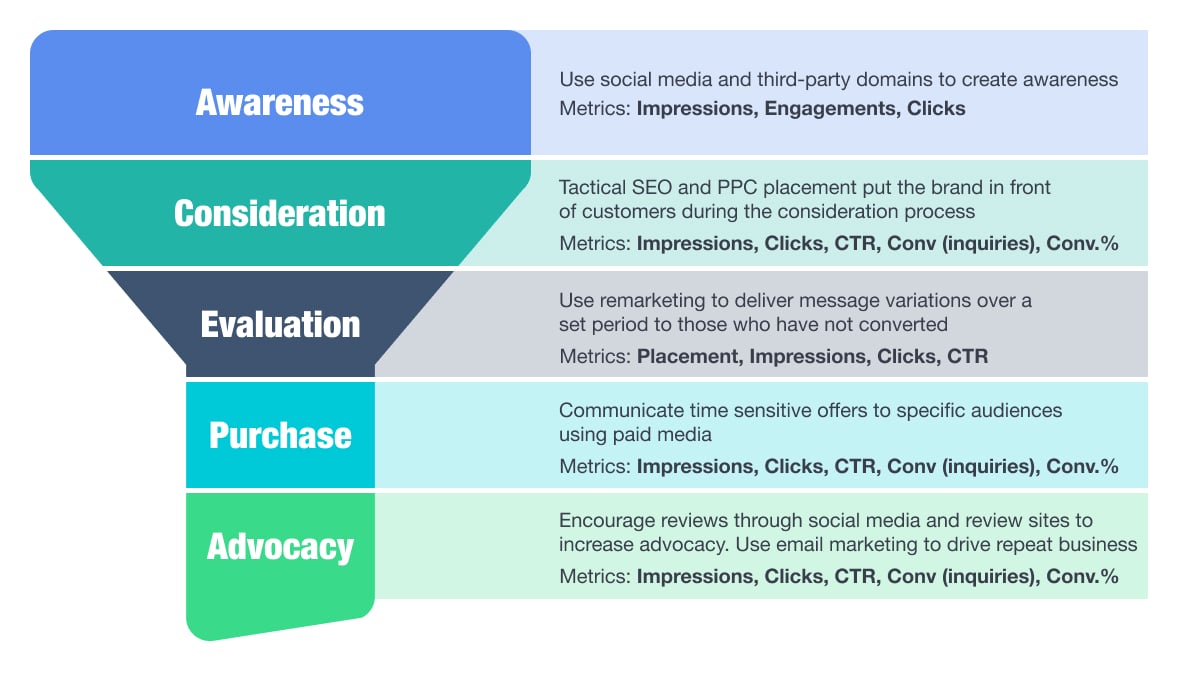 Strict decisions needed to be made regarding any activity that fell outside of the targets, including historic "norms" that may or may not have performed in the past. Digital moves fast, consumer behaviours change on a continuous basis and businesses need to move with this change; they can't afford sentimental attachments to long-accepted processes.
A sample funnel was produced to illustrate how we would approach marketing activity with goals and metrics associated to each level. This gave the teams a better understanding of how we would evaluate activity at different stages of consumer behaviour.
Tackling the funnel
With so many moving parts and high levels of activity highlighted as part of the discovery phase recommendations, we needed to re-prioritise and work smarter, not just harder.
We grouped activity into a number of bands and organised squads to tackle specific areas.
Brand reputation – we needed to continuously reinforce brand reputation online using third party review sites, encouraging continuous reviews, communicating reputation and visually displaying across digital materials.
Business benefits 1st – during the process of importance of putting the product first, we discovered this software doesn't just save businesses money, it makes money. This needed to be at the forefront of all communications.
Reaching the audience – to grow traffic, we needed to understand the audience research habits and general web browsing behaviours by using a combination of internal and external people, and our list of proprietary tools to showcase the opportunities. This showed us that a mix of digital channels should be used where individual communications and optimisation tactics were deployed.
Retargeting/remarketing – this had to be delicately handled due to the intrusive behaviour these techniques can bring. We set out to build a range of audience-based retargeting, website interactions retargeting and triggered remarketing emails.
Content engagement – a forgotten area for most sites, UX is a critical factor and consumer expectations are increasing by the day. Removing obstacles and displaying content in the right pace and format was at the forefront of improving the site's look and feel.
As with all of our digital strategies, we enforced our engagement model, which focusses on cycles of activity with timely reviews opening the possibility of adapting the strategy at key stages throughout.
Make better use of technology stacks
With our extended team assembled and the product benefits firmly outlined, it was time to move to the next phase. One that would change the way our client made decisions and evaluated activity. It was time for a performance marketing mentality to be adopted across the business; everything should be evaluated back to generating positive ROI.
The final part of the 3-step plan was around the current and future technology stack. A well-defined robust technology stack improves ways of working and processes allowing businesses to really capture opportunities.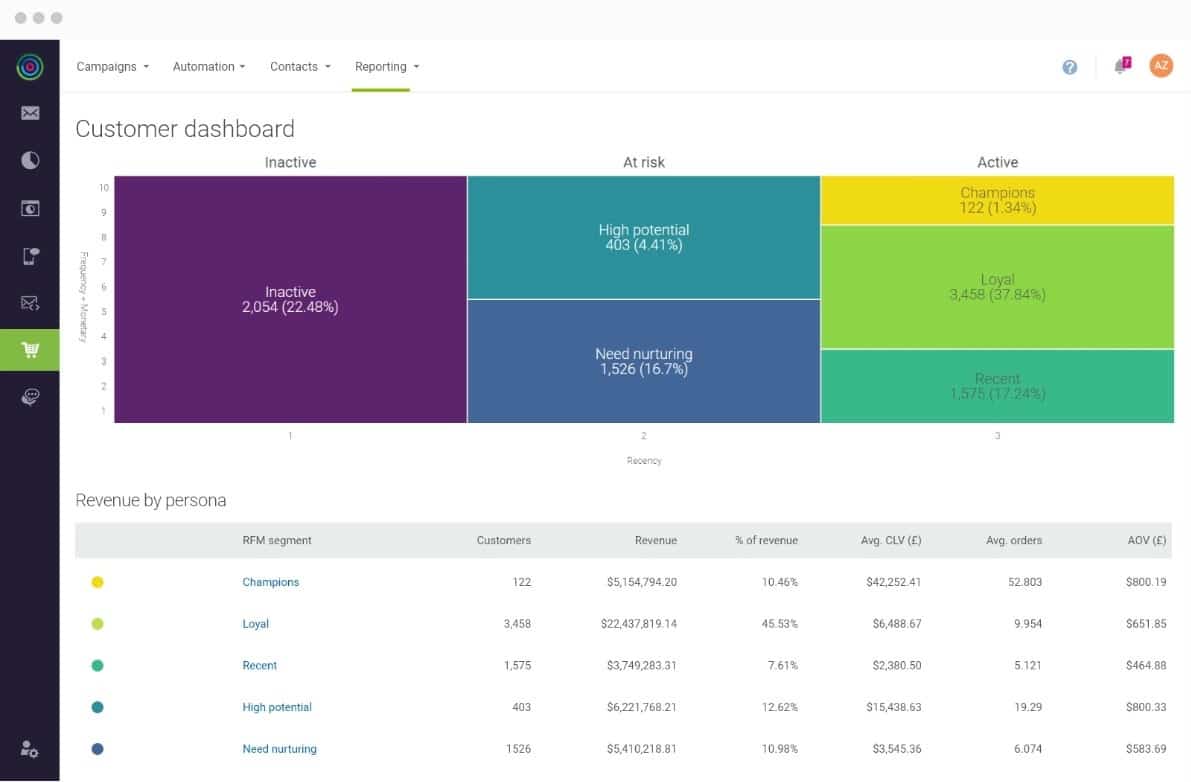 Most organisations are aware that data is key, however, we still see far too many businesses falling short by incorrectly collecting data, misunderstanding data and generally not knowing what to do with it once they have it. From our experience, capturing data incorrectly or gathering unnecessary data can cause more harm than good to a business. We devised a single master data collection requirement and evaluate automated vs manual data management to ensure the best results for the client.
A data initiative's primary goal is to improve customer experience. By increasing data capture, segmentation and CX tracking capabilities, we can build experiences that leave users satisfied with their decision to engage with your brand over others. So, it was logical that the CRM and email communications should be investigated and optimised first. After this, the wider area of data capture could be investigated e.g. making use of social media features to improve customer experience and drive more signups.
Having reviewed dotdigital, the existing marketing platform, we were confident that an excellent communications platform was already in place. However, no automated emails had been set up, the powerful site & ROI tracking feature had not been activated, email aesthetics were not particularly appealing and mobile layout had not been considered. Add to that an infrequent sending schedule with no meaningful segmentation in place, it was clear that the platform was being severely underutilised.
Having the right technology is only part of the process; using it to its full potential is what really shows the value of systems. We set out to fix these and luckily, we had a dotdigital expert within the team who had previously managed 2.8M contacts and 87.5M email sends through the system for a large-scale retail brand. It was time to apply that experience to this project.
The impact
We knew this was going to be a big task.
We were also confident we were the right ones to help the business and by applying our explore – deliver – impact engagement model, we were able to help them reach a targeted audience, nurture leads and improve customer experience throughout their buying lifecycle. All activity aimed towards making a measurable impact on the business including:
Reducing ad spend wastage
We took a systematic approach to tackle the recommended 3-step plan. One significant change was the improvement of the landing page experience for a high traffic page used for the bulk of the PPC activity. This was one of several initiatives deployed to improve content engagement across the site. The result: key communications top of sight; an increase in content velocity; increase in lead capture; and an increase in ROI for the paid media activity.
The art of digital isn't in focusing on one set service or element, it is in looking at the complete digital landscape and ensuring that every element works with the others. We applied our experience to form a seamless experience for end users, a cohesive brand identity for the client, and robust methods by which the client could measure, evaluate, reiterate, and improve.
The clients came to us wanting to take a leap into the world of digital. With our robust intervention, the client saw a significant increase in digital communications, customer engagement and lead generation. These increased interactions were accompanied by the introduction of tangible objectives and KPIs, improved accuracy of ROI reporting, which led to reduced waste in the form of ad spend. In the longer term, our guidance enabled the client to compete in a digital market today while identifying business growth opportunities and, through the creation of future-proof, portable tech, the opportunity for global expansion in the future.
Ready to start your project?