B2B digital transformation for London accountancy
A complete overhaul of the visual brand and digital marketing led to increased business leads and customers.
The brief
Co-founded in 2015 by partners who had spent their careers establishing a stable client base. Like many traditional accountancy firms, they focused on word of mouth marketing via known contacts, who naturally opted for the firm's bespoke services. Thanks to their high quality of service, the business continued to grow steadily through a mix of client retention and referrals.
Whilst their growth was steady, to attain the next level, the client needed to reach out to a new client base. They knew that digital was the best way to achieve this, and they knew that they would get the best results by seeking the guidance of digital specialists.
After receiving numerous generic unsolicited agency proposals, the client decided that it was time to invest in finding the best fit for them. The initial brief was broad: they were looking to increase the number of inquiries driven via the website; the level of investment is currently undefined; and there is a desire to improve organic visibility for the long-term growth of the business, primarily focussed on SEO.
The action
Creating a website to match the client's values.
Deriving the B2B digital strategy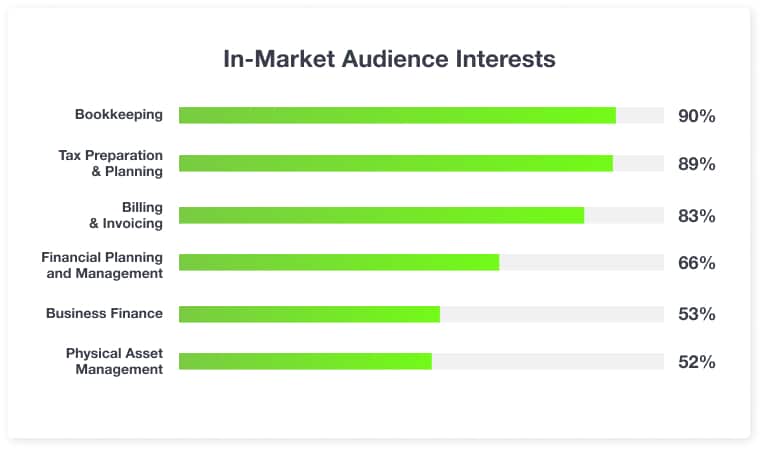 The wealth of knowledge and passion from the business was instantly apparent to our digital strategy team. However, the basic 'brochure style' pay monthly website did not portray any of the business qualities, they were not visible to potential new clients and it was not possible to analyse (and therefore improve) digital performance.
The review - understanding the opportunity
Establishing the opportunity enabled us to establish the best revenue-focused, strategic marketing approach needed for sustained business growth.
The first step was to understand how the business generated revenue. From this, we derived a full, data-driven view of the competitive landscape which enabled us to quantify short, mid and long-term opportunities and the recommended levels of investment required.
Market analysis
A long-term strategy is dependent on identifying where consumers find information about the business. Using keyword research builds a good early base of target words by highlighting the most searched phrases on search engines and incorporating them into future content. However, Keyword research goes far deeper than simply identifying the most searched-for terms. Every day, customers use thousands of smaller-volume keywords that have less competition. These lower-volume keywords are known as long-tail keywords and represent about 70% of all search traffic.
They needed to focus on these long-tail keywords to build momentum whilst utilising head terms for general optimisation of the site and use within other marketing activities e.g. paid search, social, email etc.
Deep audience insights outlined the topics that attracted the biggest audience of a researched market, along with a baseline understanding of demographics. The research showed a large national-level interest for a variety of topics related to their business; as a local business, the key is to capitalise on these topics from a local perspective. Local volumes will inevitably be smaller, however as the majority of searches were London-based and fell within their focus catchment areas, there was the opportunity for real digital growth.
Performance Analysis and Competitor Benchmarking
The lack of existing analytics limited analysis of the website's performance, so our gurus needed to be creative, utilising industry-leading tools and techniques to gather insights on the website's performance as well as a full gap analysis.
This information allowed us to conduct a side-by-side comparison of themselves and their competitors. The data highlighted the client's limited visibility across digital channels and the huge growth opportunity available.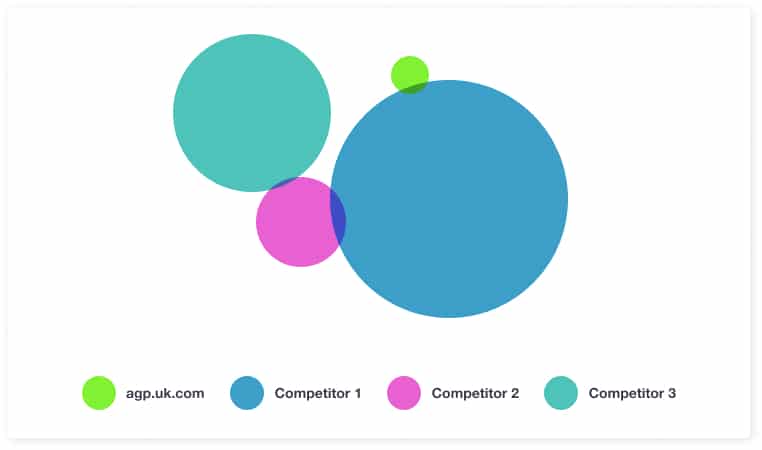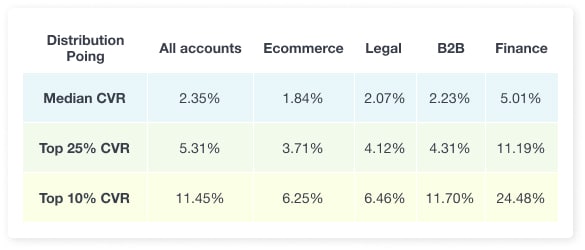 Conversion is a key element in any digital strategy; conversion rate benchmarking and optimisation maximise every penny spent on marketing. Fine-tuning CRO to work alongside lead volume and profitability was therefore a key priority in the early stages of marketing activity.
Conversion rate by industry
Once again, we refused to be limited by the lack of analytics, turning to industry benchmarks for a general understanding of how the market performs. Low industry-standard conversion rates meant that any paid marketing activity needed to be extremely targeted in order to yield results. The early stages targeted the most tightly themed topics and locations, with on-going experiments testing wider location ranges and keyword sets.
A robust platform to perform conversion optimisation combined with accurate tracking was required to fully understand the effectiveness of marketing campaigns; data collation allowed us to build an ROI model to help the client visualise the profitability of their marketing activity.
The findings
The in-depth analysis outlined several pros and cons of their digital presence; once they were presented with the tactical marketing plan, the leadership team became fully invested in our approach and trusted our experts to deliver the digital strategy.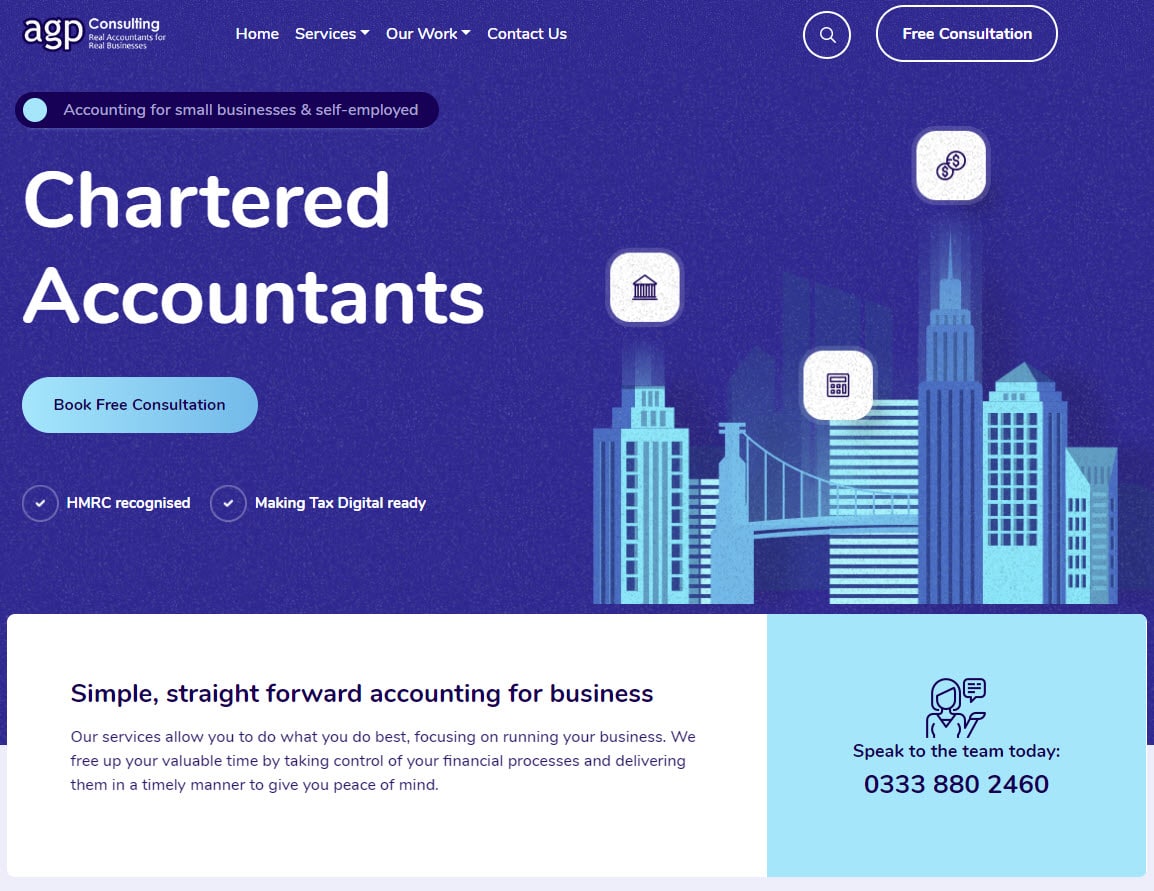 Gone are the days where websites were simple brochures, built to look good and influenced offline purchase decisions, and placed online. Consumers' research and purchasing behaviour has evolved dramatically and continues to change, meaning that the old approach to 'owning a website' has become obsolete.
Our initial website review uncovered critical issues with the existing website and despite all efforts, we were unable to recommend the continued use of the pay-monthly service. Our creative team began the website discovery phase to design and build a new website which aligned with the business's offline reputation. The goal was to go beyond visual appearance alone, we needed to focus on-site strategy, structure, content, layout, SEO and more.
Our creative, marketing, technology and optimisation teams created a new look and feel that serviced all digital needs whilst maintaining AGP Consulting's core values and heritage. Our highly skilled developers translated these beautiful designs into a compelling website, achieving the highest technical standards.
Our agile approach ensured we worked quickly and collaboratively whilst keeping our client's goals at the forefront of the process.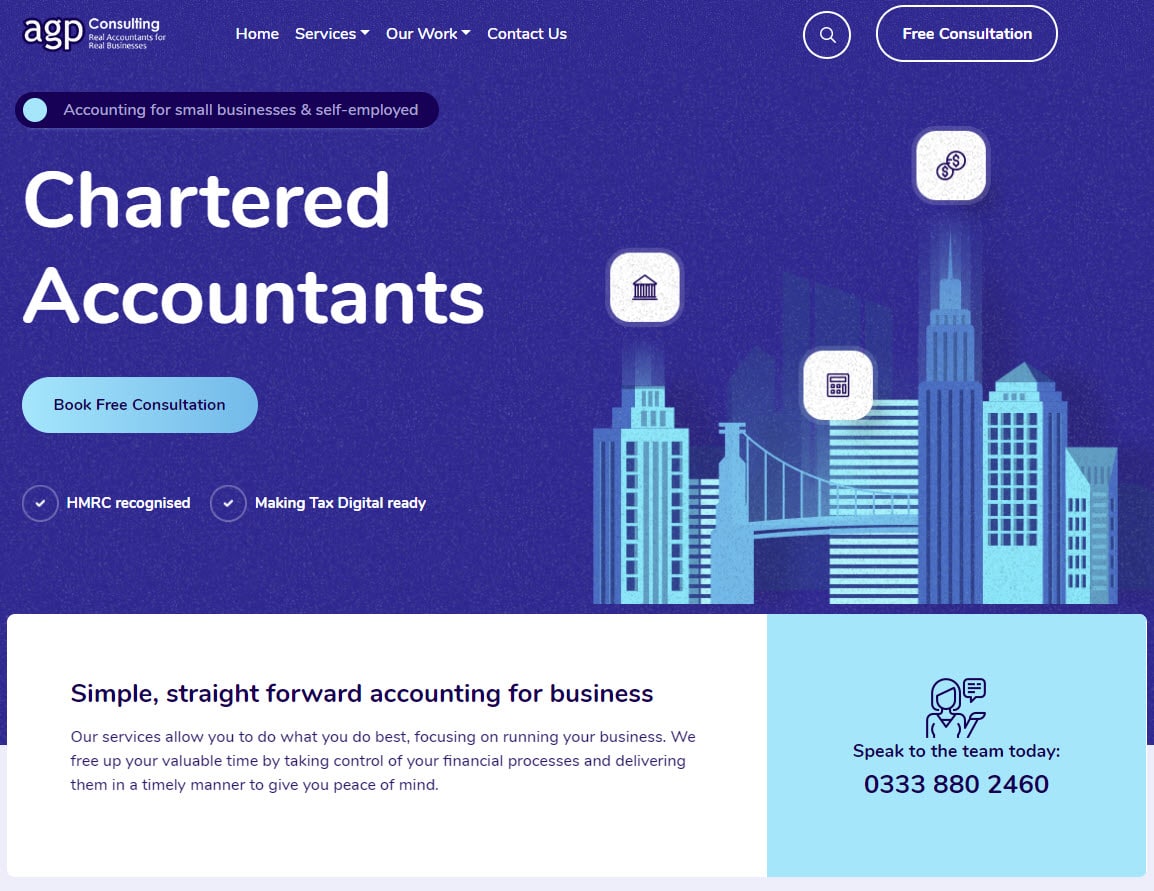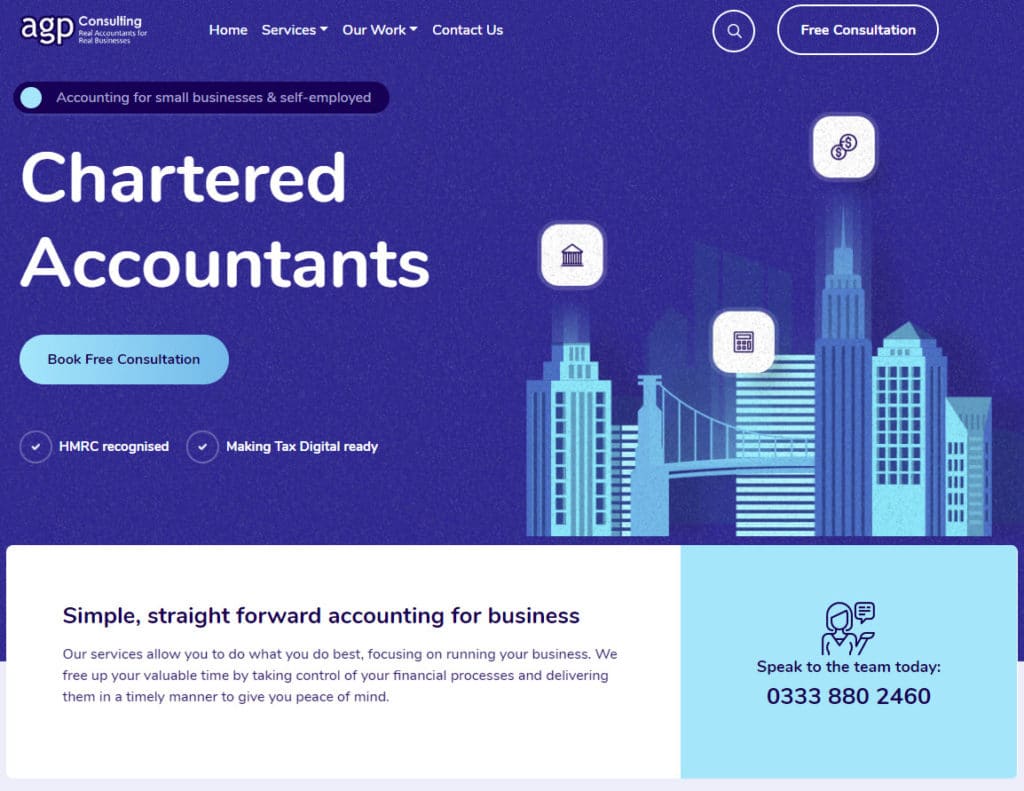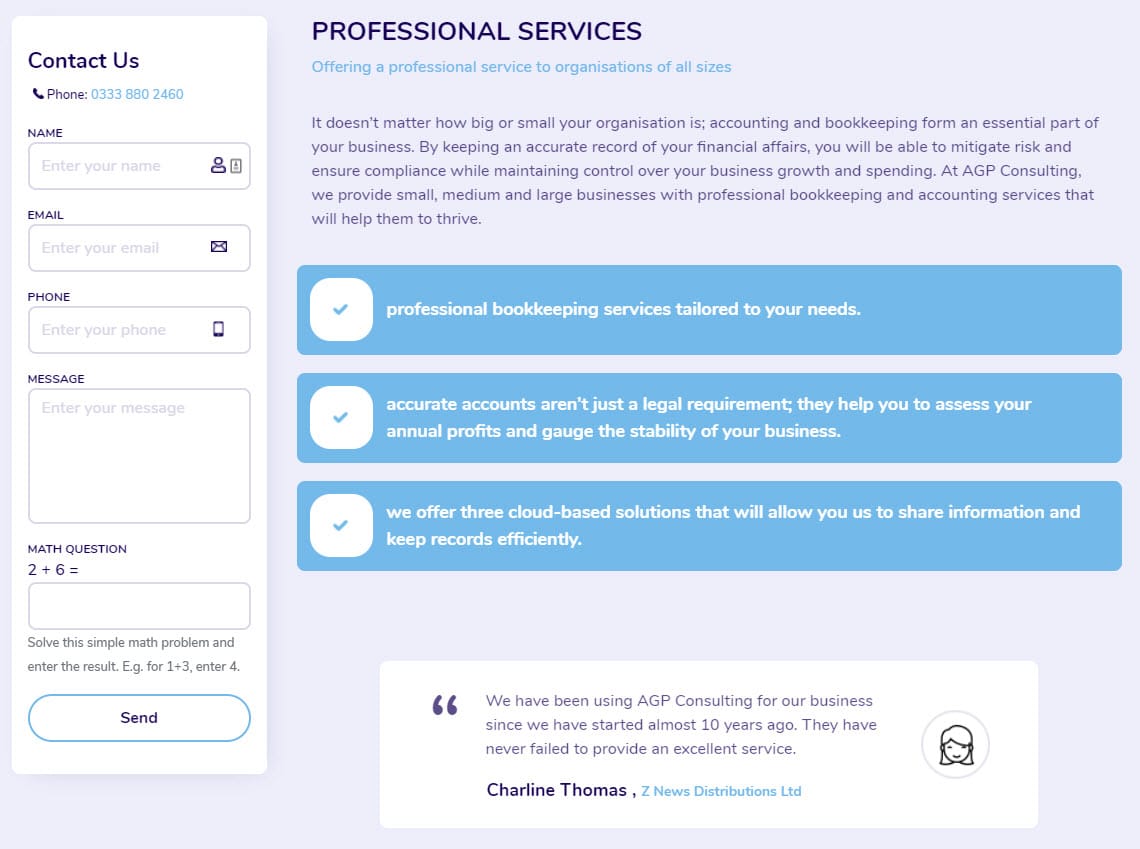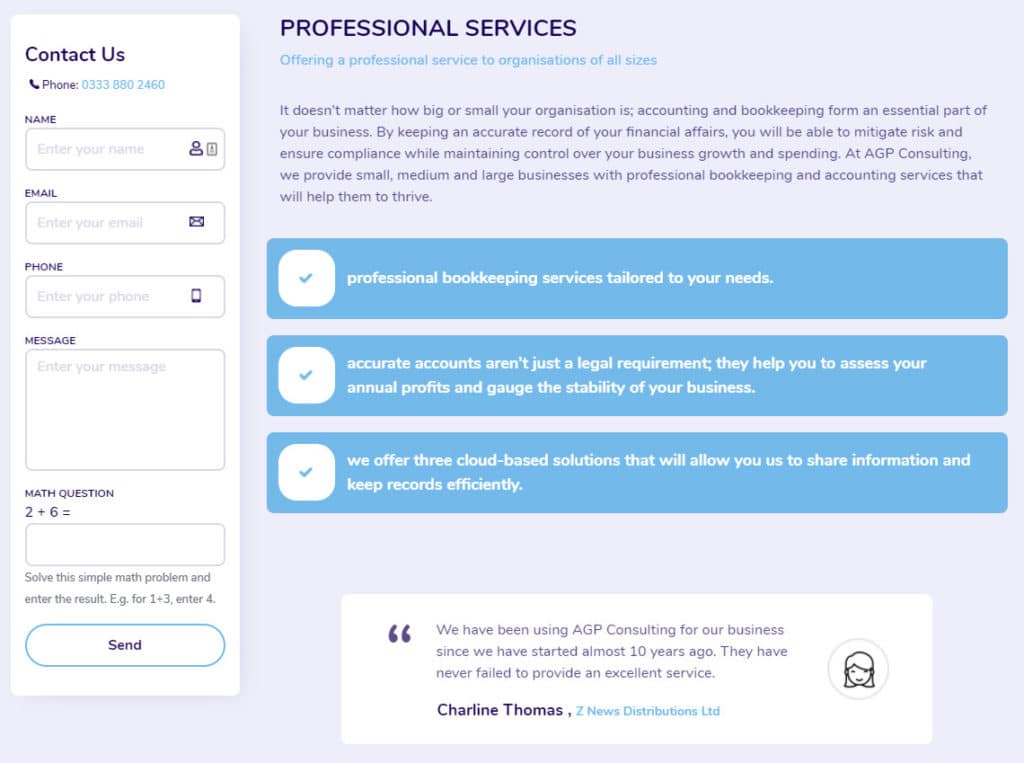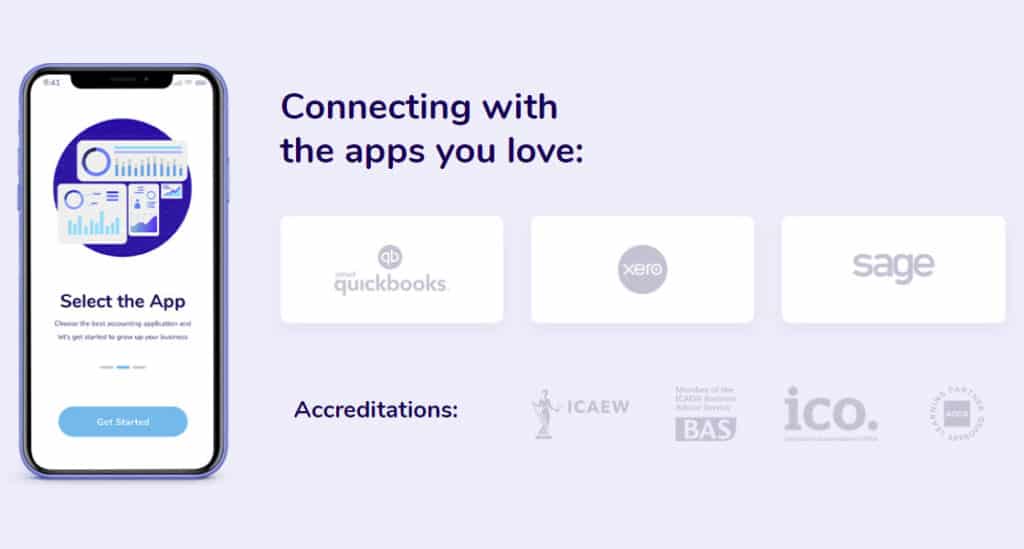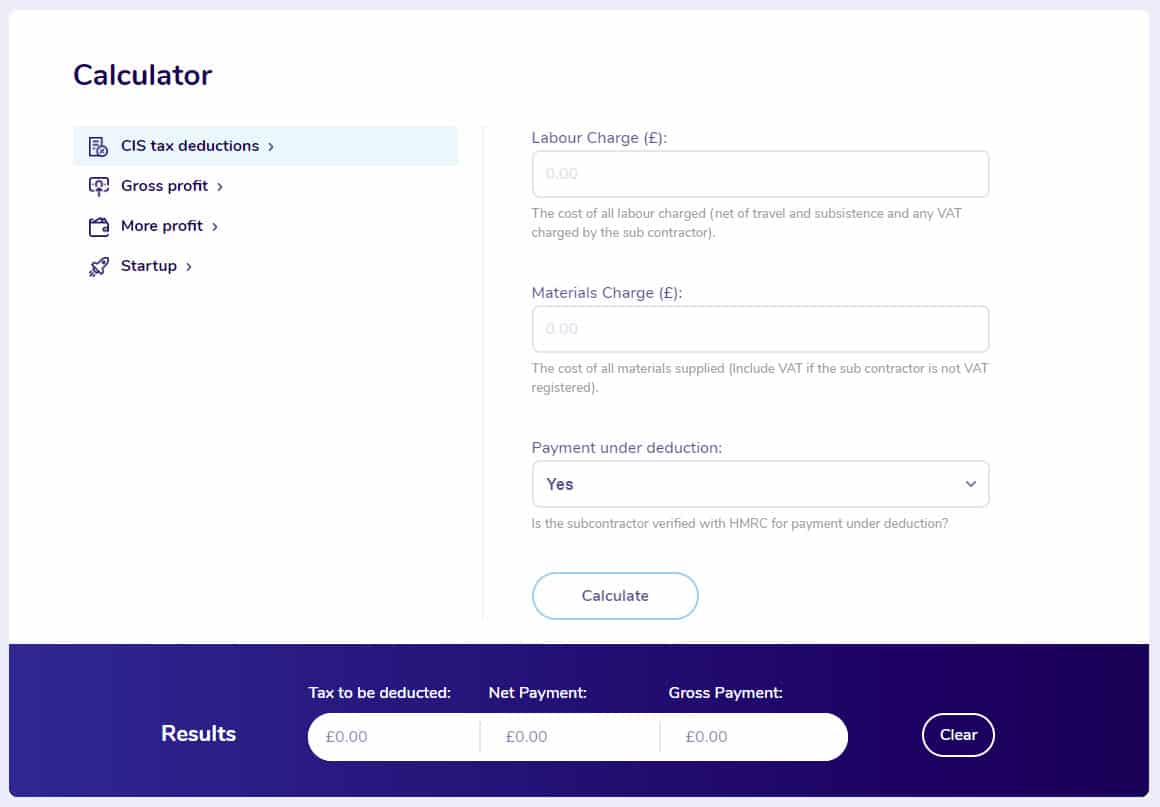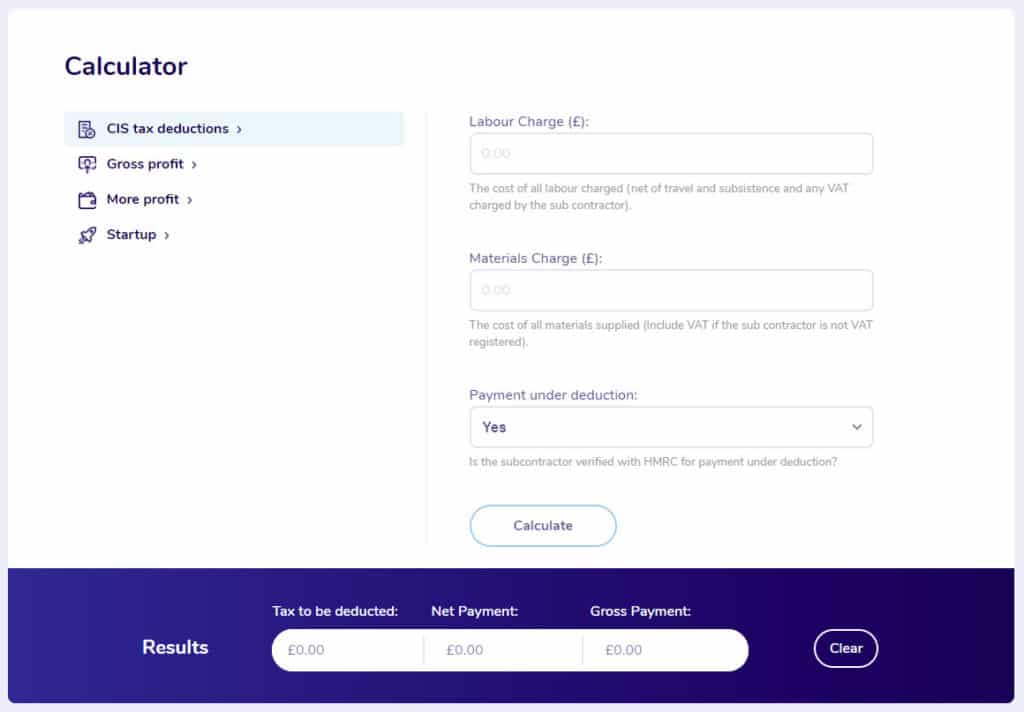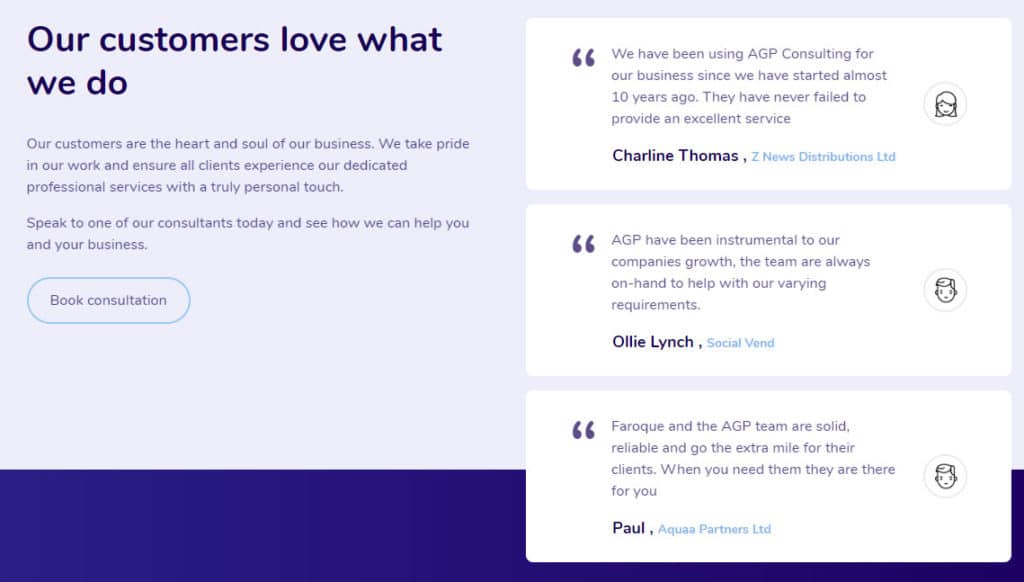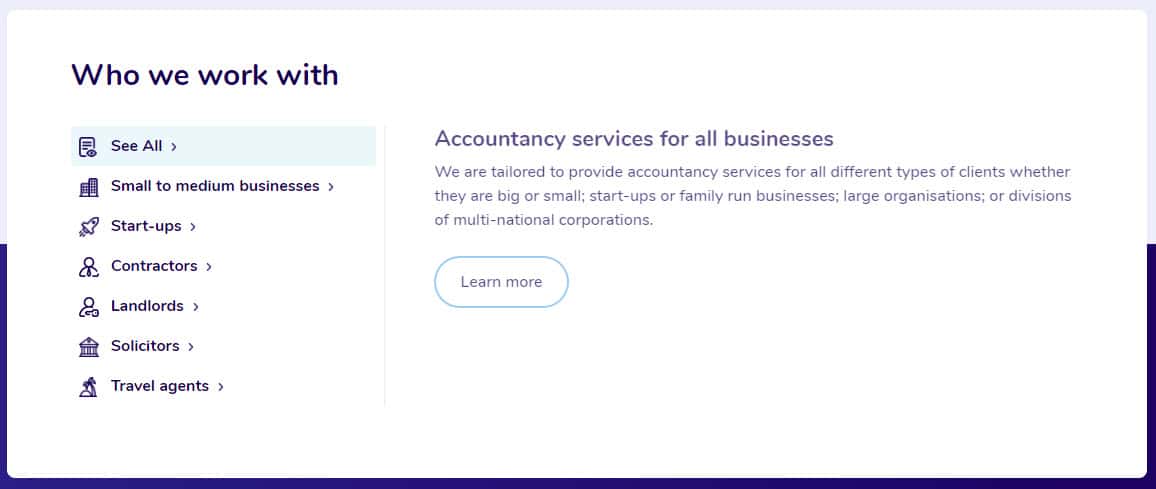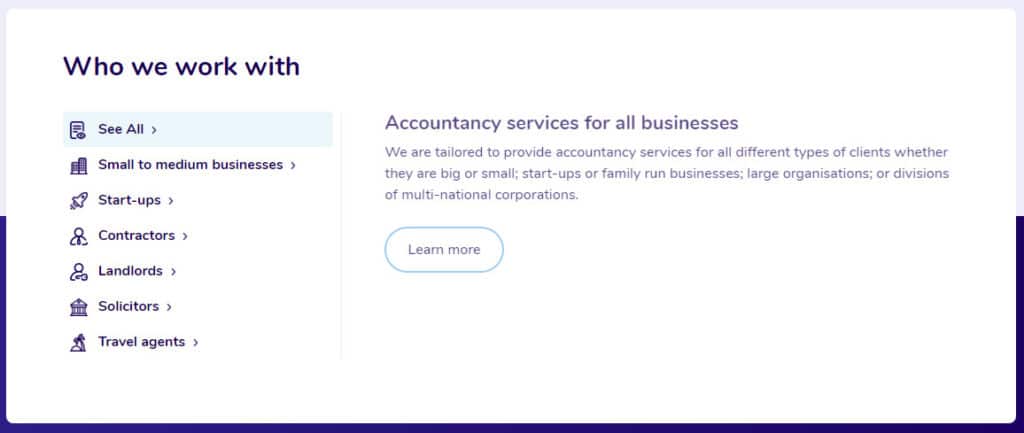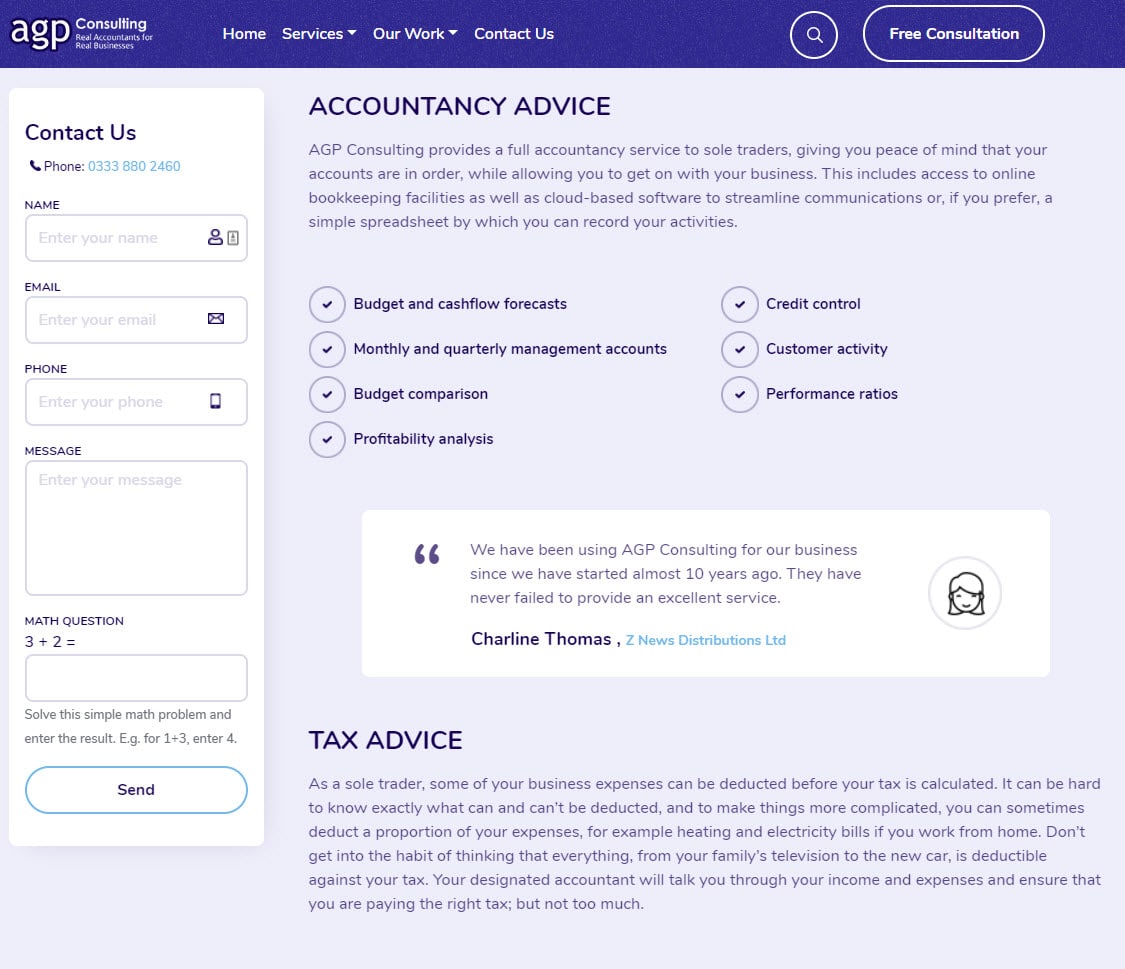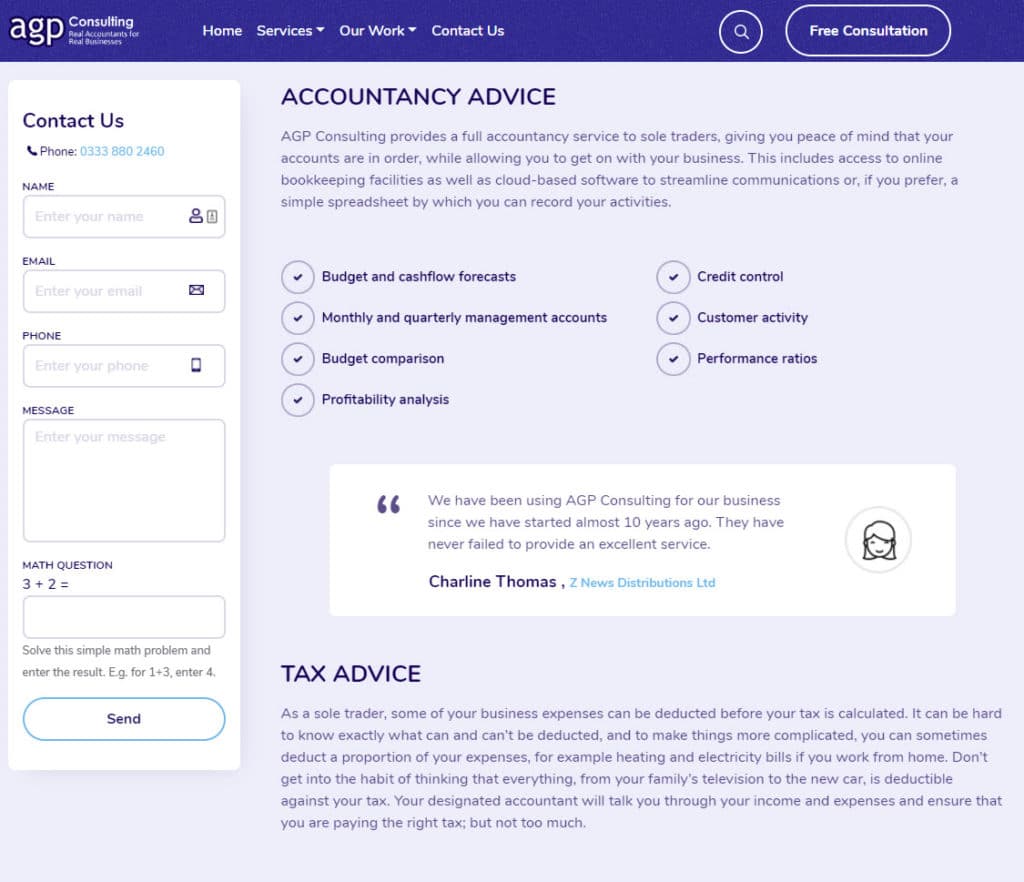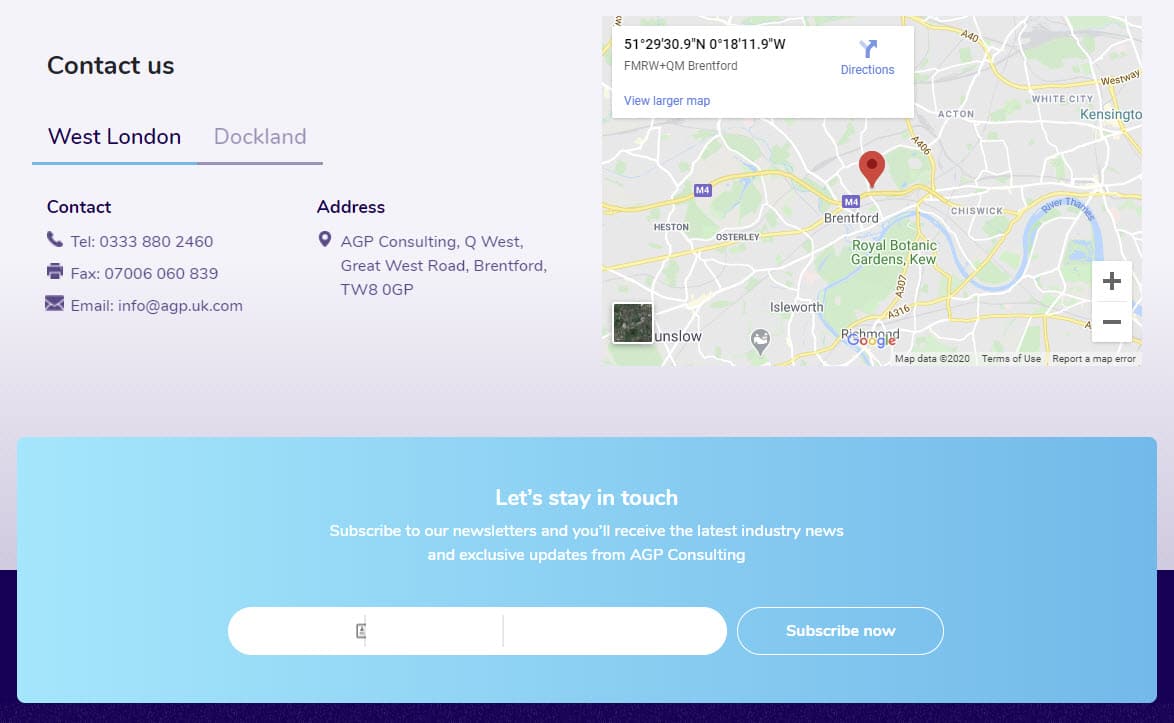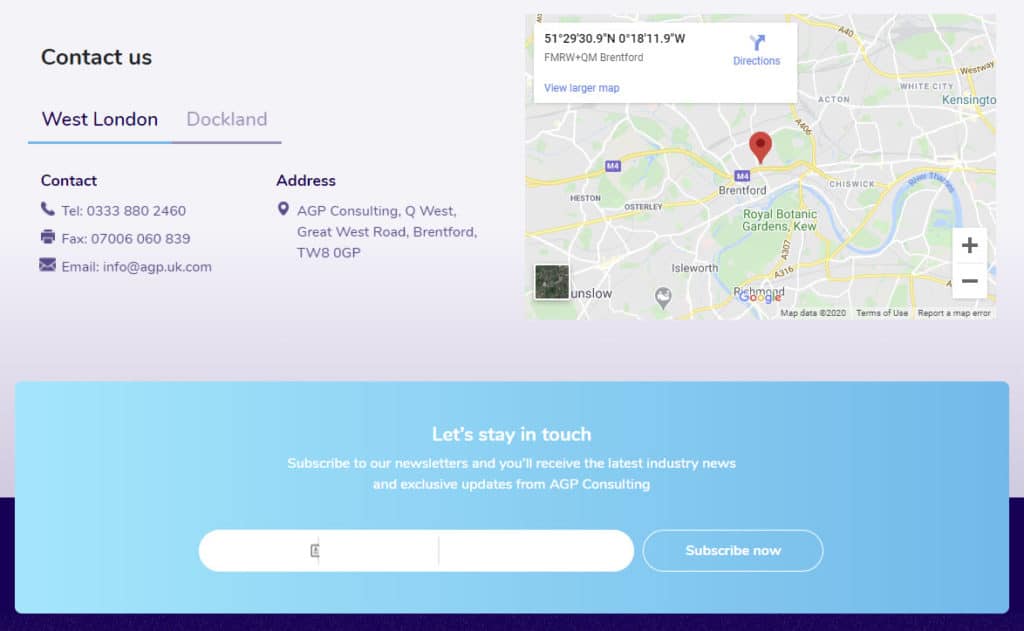 The impact
The early activity has shown the instant impact a carefully crafted digital strategy can have on a business.
Leads have increased substantially, allowing this London accountancy business to secure new clients. The ability to track and analyse traffic and content engagement levels across digital channels has defined new benchmarks, which provided baseline metrics from which we can measure and manipulate future business growth.
Ready to start your project?